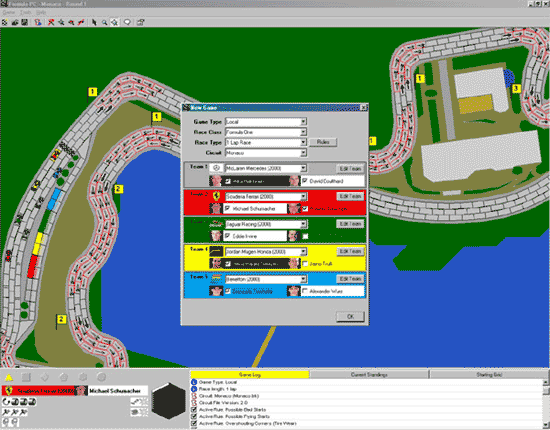 This image shows the New Game dialog box. From here players can choose the type of game they wish to play (E-Mail or Local), how long the race length will be (1 lap, 2 laps, 3 laps or qualifying), they can choose the circuit to race on and select which teams and drivers will be participating. Custom team files can be created and you can even include your own bitmaps of team logos and driver pictures. There is also programming in place for race classes other than Formula1, so in the future races can be run using touring cars, stock cars, etc. with parameters differing from Formula1.
CONTACT:
If you have any questions or comments, please feel free to contact me: onyx@malagraphixia.com
Formula PC ©2000-2001 ONYX (J Boen) This page and all items pertaining to Formula PC
are in no way related to or endorsed by EuroGames, the makers of Formula Dé.